Quoteboard –  provides a fully customizable view of electronic market quotes. It displays open, high, low, last and net change price with an easy-to-watch candlestick.
Waterfall Order Entry – provides full market depth with a convenient visual verification prior to order entry. Users can enter orders from the price grid or order buttons. Buy, sell, change and cancel orders with a few clicks.
Order Management – Users can view their order history and detailed fills for the past 60 days.
Oak Web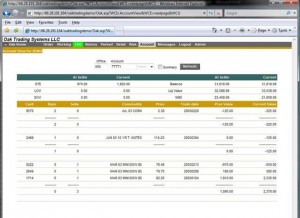 The OAK System offers a "One Screen Solution", providing customers the ability to route orders to any connected exchange. OAK Web offers easy web based access, alleviating the headaches associated with running third-party software, such as downloading, installation, ongoing maintenance and system re-configurations.
Main Order Entry Screen – Simplified and easy to use for a wide range of trades. Search features assist in finding available commodities and contract months. The status of the order is acknowledged from point of entry until final destination.
Parked Order Screen – Allows users to maintain multiple preset orders on a single screen, which gives them the ability to enter orders with two clicks of the mouse. It can be used for rapid order entry, saving and re-entering frequently traded contracts.